Legal and financial matters for the elderly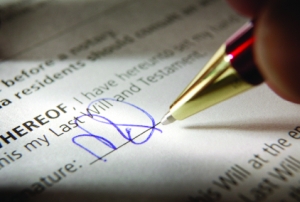 When making the very difficult decision on care and whether to give up your own home it is important to consider the legal and financial implications and to take good advice from a specialist adviser in matters such as:
Lasting Powers of Attorney (which replaced the 'Enduring Power of Attorney' in October 2007)
Court of Protection issues
Wills and tax planning
The sale of your property
Financial planning tailored to your own personal needs
In October 2007, the law changed, bringing the Mental Capacity Act 2005 into force. Existing Enduring Powers of Attorney (see below) will remain valid but new Powers must be Lasting Powers of Attorney.
A Lasting Power of Attorney is a legal document that gives someone chosen by you (usually a friend, relative or professional person) the right to make decisions on your behalf about things like your personal welfare and healthcare, as well as about your money and property. You may appoint more than one person as your attorney, in which case you will have to decide how the attorneys will work together.
You do not have to wait for your ability to make decisions about yourself to decline before choosing an attorney and you have the right to stop the Lasting Power of Attorney at any time (so long as you are able to make the decision for yourself). Your attorneys are also free to change their mind at any time about acting in this capacity, in which case you would need to appoint a new person and make a new Lasting Power of Attorney. A Lasting Power of Attorney has to be registered with the Office of the Public Guardian to ensure that it is legal and has been set up properly.
Remember, a Lasting Power of Attorney is a legal document that gives someone else the right to act on your behalf if you are not able to make some or all of the decisions to do with your life - you should therefore be sure that the people you choose to be your attorney know you well and that you trust them to do what is best for you.
If you lose your mental capacity and have not signed a Lasting Power of Attorney, then someone must apply to the Court of Protection to be appointed 'Deputy' (formerly known as a 'Receiver'). In this case, the Court decides who will manage your affairs, so the person appointed may not necessarily be someone you know or the person you would want to deal with your financial arrangements.
As of October 2007, there have also been changes to the Court of Protection and its procedures. Receivers are now known as Deputies with specified powers to deal with someone's financial affairs, which can include personal and welfare decisions.
This is an important time of change. You should consider taking advice to review your financial position and that your legal affairs are in order. The two frequently go hand in hand.
As regards financial planning, you may wish to get advice about making the most of your funds to finance care home fees, and to look at any tax planning options open to you. You should also consider reviewing your will, or making one, if you have not already done so.
About the Mental Capacity Act 2005
The Mental Capacity Act 2005 was passed following concerns that at least 15% of Enduring Powers of Attorney (EPA) were being abused. As mentioned above, it came into force in October 2007 and the Lasting Power of Attorney (LPA) has replaced the EPA. As well as covering financial matters, the Lasting Power of Attorney will be able to cover matters of welfare including medical treatment, whether a donor should live or die, and allowing an Attorney access to medical records. It is possible to make separate LPAs covering each of these matters.
Financial Support
As an older person or a carer of someone who is older, you may be entitled to a number of benefits as well as financial assistance that may make your life a bit easier. You might like to order a free copy of our brochure entitled, 'Your Health Counts', which gives more detailed information about your financial entitlements. However, we have given a broad overview below.
Organisations such as Age UK can give you more information about benefit entitlements. The Directgov website (www.direct.gov.uk) is also an invaluable source of information. Similarly, your local Citizens' Advice Bureaux should be able to talk you through the financial support available.
At the time of writing (March 2012) we are not able to predict changes to the availability of services, benefits or entitlements in the next 12 month. We strongly recommend that you double check any information given to find out what is the current situation.
Benefits
If you have a disability, you may be able to claim Disability Living Allowance (if you are under 65) or Attendance Allowance (if you are 65 or over). You may also be entitled to means-tested benefits such as Pension Credit, Housing Benefit and Council Tax Benefit; and also, a Social Fund Community Care Grant (if you are receiving Pension Credit).
Equipment
A wide range of equipment, aids and adaptations are available to help you remain in your own home - these might include, for example, a bath seat, special chairs, raised toilet seats or adapted doorways to accommodate a wheelchair. Some equipment may be provided free of charge through your local council or the NHS and the British Red Cross offers a loan service for disability equipment.
Free products and services
As an older person, you may be able to receive winter fuel payments, free bus passes, eye tests and gas safety inspections, for example.
Local councils do not have to charge for their services but most choose to do so, with each implementing their own charging policy. You should not be charged, however, if your weekly income falls below a certain level (this is calculated on the basic level of Pension Credit guarantee credit, plus 25 per cent). At present any charges you do pay should not bring your income below this level.
When your local council is working out your income, they will not include certain payments such as the Winter Fuel Allowance or Pension Credit savings credit, for example. At present whatever your income, you should not pay for any community care equipment or adaptations up to the cost of £1000.
Housing Grants
You may be entitled to a Housing Grant from your local council towards the cost of housing repairs or to adapt your home to meet your care and/or mobility requirements, for example.
The Independent Living Fund
The Independent Living Fund is closed to new applications. However all individuals currently receiving assistance will continue to do so.
Intermediate Care
Intermediate care is a type of short-term rehabilitation and recovery service. This should be provided free of charge to help you get back into living at home after a period of time spent in hospital or to help you avoid going into hospital altogether.