The Cinnamon Trust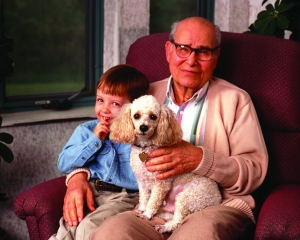 The Cinnamon Trust is the only specialist national charity which seeks to relieve the anxieties, problems and sometimes injustices faced by older or terminally ill people and their pets, thereby saving a great deal of human sadness and animal suffering.
For many older people living on their own, their pets are their reason for living. Much anxiety can be caused to pet owners wondering about the fate of a faithful companion should they die, fall ill or have to move to residential accommodation.
The Trust's primary objective is to respect and preserve the treasured relationship between owners and their pets. To this end, it works in partnership with owners to overcome any difficulties that might arise. A national network of over 6,000 community service volunteers has been established to provide practical help when any aspect of day-to-day care poses a problem - for example, walking the dog for a housebound owner or taking a pet to the vet.
A national fostering service is provided for pets whose owners face a spell in hospital - volunteers take pets into their own home and supply love and care until the owner and pet can be reunited.
The Cinnamon Trust also provides long- term care for pets whose owners have died or moved to residential accommodation, which will not accept pets. The Trust supplies a 'pet friendly' care home register for each county. When a pet is in the Trust's care, either short-term or long-term because the owner is in care, the owner is kept in touch with visits, if possible, or regular photos and letters.
The Cinnamon Trust has established unique sanctuaries with no kennels or cages that would bewilder an old and much loved pet. There are settees and armchairs, large warm rooms to share, rugs on the floor - all familiar and comforting.